PAKUPAKUAN Artist
Artist name

フクモ 陶器 FUKUMO TOUKI

Work

陶芸 / Ceramic artist

Whereabouts

不明 / Unknown

H  P

https://www.fukumotouki.com/

S N S

#fukumotouki/

Biography

2004年頃よりオリジナルブランドのフクモ陶器を開発、製造、販売。
いんちきな骨董品や偽の土産物、珍しい物体等をつくり、さまざまな場所で人をだまして高く売りつける活動を行っている。
性別・年齢その他は不詳。
激陶者集団へうげ十作の一員としても、「天祭 一〇八」などで活躍。
「ツタンカーメン堂」なるユニットとの関連も噂される。

FUKUMO Touki, the original brand, has started around since 2004.
It has developed, manufactured, and sold cheesy antiques, fake souvenirs, and unusual objects. It engages in the activities to deceive people and sell artworks at high prices in various locations.
Gender, age, and other details are unknown.
As a member of "Hyouge Jissaku (Extreme Potters group from the courtesy of a popular comic "Hyougemono"), the artist is active in "Tensai 108" and other events.
It is also rumored to be associated with the unit "Tutankhamundou".
| | |
| --- | --- |
| | |
| | |
| --- | --- |
| | |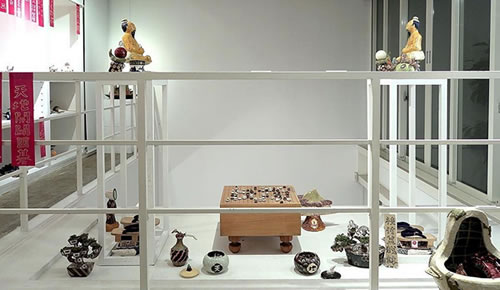 【主な展示】
2017 個展「冥土の土産物展」(白白庵 / 東京)
   「KOGEI Art Fair Kanazawa 2017」白白庵より出品(KUMU金沢 / 石川)
2018 アートラウンジ「華祀り」(パークホテル東京 / 東京)
   「NEXT5 × Hyougemono 2018 発売記念大披露宴」(パークホテル東京 / 東京)
2020 輝け! 第一回「壺1グランプリ」(白白庵 / 東京)
2021 白白庵 オンライン+アポイントメント限定 グループ企画展 「祀画 PART2」(白白庵 / 東京)

他、神出鬼没に活動中。
【Major Exhibition History】
2017 Solo exhibition "Souvenir shop of the other world" (Pakupakuan / Tokyo)
    Exhibited at "KOGEI Art Fair Kanazawa 2017" from Pakupakuan (KUMU Kanazawa / Ishikawa)
2018 Art Lounge "HANA MATSURI: worship flowers" (Park Hotel Tokyo / Tokyo)
   "NEXT5 x HyougeMono 2018 Banquet commemorating the release of corroboration work"
    the group exhibition of Sake items by 49 potters from "Hyouge Jissaku"
    with friends" (Park Hotel Tokyo / Tokyo)
2020 "The 1st TSUBO-1 Grand Prix"
2021 PAKUPAKUAN contemporary artists Group exhibition "MATSURUE PART2" (PAKUPAKUAN / Tokyo)

And it appears in unexpected places at unexpected moments.