PAKUPAKUAN Artist
Artist name

やまだ あやこ YAMADA Ayako

Work

刺繍バッグ / Embroidery bag

Whereabouts

滋賀 / Shiga

H  P

http://misin-ya.main.jp/

S N S

#misinya3

Biography

兵庫県生まれ大阪芸術大学工芸学科 卒業
滋賀県信楽町にてアトリエを構える
ヴィンテージのシルクやコットン、ウールや刺繍布など様々な美しい裂からインスピレーションを受け、裂を何枚も重ねてコラージュしバッグや小物、アート作品を制作。縦横無尽にミシンステッチを走らせ色を重ねていく手法で独特の質感と新しい世界を生み出しています。
Fabric bag artist
【Brief Personal History】
Born in Hyogo prefecture. Graduated from Osaka University of Arts, Crafts Department. Open an atelier at Shigaraki city, Shiga Prefecture.
She collages many scraps of clothes and produces bags, accessories, artworks, inspired by a variety of beautiful clothes such as vintage silk, cotton, wool and embroidered cloth.
She creates a unique texture and a new world by freely running a sewing machine and overlapping its stitches and colors.
| | |
| --- | --- |
| | |
| | |
| --- | --- |
| | |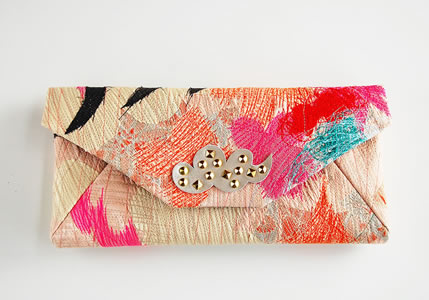 【近年の主な展覧会】
2013 ギャラリーペリドット「ハレとそらのバッグ」展(神奈川)
    ハンドメイドinJAPANフェス 出展(東京)
    「妖艶」・グループ展(宮城)
2014 白白庵企画 「みやげもの」(日本橋三越本店 / 東京)
2015 「えんぎもの」(白白庵 / 東京)
    山田浩之との二人展「信楽からの便り」(FUNASTURU / 京都)
    個展「やまだあやこの刺繍バッグと小物」(樂庵 / 東京)
    「わんげる。」(下北沢織部 / 東京)
    「エンジョイ!アートフェス☆」(日本橋三越 / 東京)
    「とんがりのススメ」(伊勢丹新宿店 / 東京)
    第五回「天祭 一〇八」(増上寺 / 東京)
    激陶者集団へうげ十作展「ニッポニア ニッポン」(まるごとにっぽん / 東京)
2016 「ITACHOCO ART」,「KAYARISM」,「みらい百貨店」(伊勢丹新宿店 / 東京)
    「GALLERY FUNATSURU COLLECTION 2016」(FUNATSURU / 京都)
    「第一回 にっぽん全国わくわくクリエイター」(まるごとにっぽん / 東京)
    第六回「天祭 一〇八」(増上寺 / 東京)
    激陶者集団へうげ十作展「浅草甲乙数奇合戦」(まるごとにっぽん / 東京)
2017 「ピーチガールズ・フェスティバル」(伊勢丹新宿店 / 東京)
    「SAKURA MY CHILL」(京急百貨店 ギャラリー旬 / 神奈川)
    器と美食の賞味会「蛮餐会」(神戸メリケンパークオリエンタルホテル / 兵庫)
    激陶者集団へうげ十作展「WE LOVE HYOUGE」(白白庵 / 東京)
    個展「夏のバッグ展」(丸善日本橋店3階ギャラリー特設会場 / 東京)
    「五元茶会」(伊勢丹新宿店 / 東京)
    激陶者集団へうげ十作展@「神戸アートマルシェ 2017」(神戸メリケンパークオリエンタルホテル / 兵庫)
    「MUSEUM IN WONDERLAND」(髙橋美術 / 滋賀)
2018 「桃花茶会」(伊勢丹新宿店 / 東京)
    「花鳥風月 Remixed」(白白庵 / 東京)
    激陶者集団へうげ十作展「へうげdeマテリアル」(MTRL KYOTO / 京都)
    アートラウンジ「お月見ラウンジ」(パークホテル東京 / 東京)
2019 白白庵リニューアルオープン記念企画「南青山大茶湯」(白白庵 / 東京)
    白白庵企画展 「A/W COLLECTION 2019」(白白庵 / 東京)
    白白庵 迎春特別企画 「大縁起物展」(白白庵 / 東京)
2020 白白庵 春の特別展「春爛漫 百花繚乱茶会」(白白庵 / 東京)
    白白庵 厄除・迎春特別祈念 「大縁起物展」(白白庵 / 東京)
2021 白白庵・阪神百貨店美術画廊 企画 「It's a TEA LIFE」(阪神百貨店 / 大阪)
【Major Exhibitions in Recent Years】
2013 ""Sunny day and sky bag" Exhibition" (Gallery Peridot / Kanagawa)
    HandMade in Japan Fes (Tokyo Big Sight / Tokyo)
    Group Exhibition "Bewitching" (Miyagi)
2014 "ENGI-MONO ~the exhibition of mascot & lucky charms ~" (PAKUPAKUAN / Tokyo)
    "A letter from SHIGARAKI": celamic : YAMADA Hiroyuki embroidery
    : YAMADA Ayako (misin-ya) (FUNATSURU KYOTO KAMOGAWA RESORT / Kyoto)
    Solo Exhibition "YAMADA Ayako's Embroidery Bad and Accessories (Gallery raku-an / Tokyo)
    "Wangeru." (Shimokitazawa Oribe / Tokyo)
    "Enjoy! Art Fes☆" (Nihonbashi Mitsukoshi Main Store / Tokyo)
    "Let's TONGARI !!" (Isetan Shinjuku Store / Tokyo)
    "5th Tensai 108" (Zojoji Temple / Tokyo)
    The tremendous exhibition by "Hyouge Jissaku
    (Extreme Potters group from the courtesy of a popular comic "Hyougemono")
    "Nipponia Nippon" (Marugoto Nippon / Tokyo)
2016 " I T A C H O C O A R T" "KAYARISM" "Mirai Department Store" (Isetan Shinjuku Store / Tokyo)
    "GALLERY FUNATSURU COLLECTION 2016" (FUNATSURU KYOTO KAMOGAWA RESORT / Kyoto)
    "MARUGOTO JAPANESE ART FES" (Marugoto Nippon / Tokyo)
    "6th Tensai 108" (Zojoji Temple / Tokyo)
    The tremendous exhibition by "Hyouge Jissaku
    (Extreme Potters group from the courtesy of a popular comic "Hyougemono")
    "ASAKUSA KOUOTSU SUKI GASSEN" (Marugoto Nippon / Tokyo)
2017 "Peach Girl's festival" (Isetan Shinjuku Store / Tokyo)
    "SAKURA MY CHILL - the exhibition of
    Japanese arts & crafts for new life" (KEIKYU Department Store / Kanagawa)
    PAKUPAKUAN, ISHIBASHI Keigo presents "The 5th appreciation party called
    "The beauty of tableware, the beauty of dish"" (Kobe Meriken Park Oriental Hotel / Hyogo)
    The tremendous exhibition by "Hyouge Jissaku
    (Extreme Potters group from the courtesy of a popular comic "Hyougemono")
    "WE LOVE HYOUGE" (PAKUPAKUAN / Tokyo)
    Solo Exhibition "Summer Bag" (Maruzen Nihonbashi Store / Tokyo)
    "Five Element Tea Ceremony" (Isetan Shinjuku Store / Tokyo)
    "KOBE ART MARCHÉ 2017" Exhibited from PAKUPAKUAN (Kobe Meriken Park Oriental Hotel / Hyogo)
    "MUSEUM IN WONDERLAND" (ART TAKAHASHI / Shiga)
2018 ""Peach blossom tea party" The group exhibition
    of the items concerning the Girl's Festival" (Isetan Shinjuku Store / Tokyo)
    "a special group show "KACHO-FUGETSU* remixed"_
    *Flowers and birds poetic genius: beauties of nature" (PAKUPAKUAN / Tokyo)
    The tremendous exhibition by "Hyouge Jissaku
    (Extreme Potters group from the courtesy of a popular comic "Hyougemono")
    "HYOUGE DE MATERIAL" (MTRL KYOTO / Kyoto)
    ART LOUNGE the 9th exhibition by PAKUPAKUAN ""OTSUKIMI LOUNGE"
    the group exhibition by recommended Japanese contemporary art & craft artists
    *OTSUKIMI: enjoyment of the moon" (Park Hotel Tokyo / Tokyo)
2019 PAKUPAKUAN Reopen after renovation Event"Minami Aoyama Great Tea Party"(PAKUPAKUAN / Tokyo)
    PAKUPAKUAN presents collaborated exhibition "A/W collection 2019" (PAKUPAKUAN / Tokyo)
    Greeting the New Year special exhibition "Great exhibition of lucky charm" (PAKUPAKUAN / Tokyo)
2020 PAKUPAKUAN Spring special exhibition "Hundred flowers blooming in profusion" (PAKUPAKUAN / Tokyo)
    Greeting the New Year special exhibition "Great exhibition of lucky charm" (PAKUPAKUAN / Tokyo)
2021 PAKUPAKUAN & Hanshin Department Art gallery "It's a TEA LIFE" (Hanshin Department / Osaka)